Crafting the Perfect Kids' Ghostbusters Costume This Halloween
Posted by: Fatigues Army Navy Outdoor Gear on 16th Oct 2023
Ghostbusters Halloween costumes have been popular for a while now and it doesn't seem like they're going anywhere anytime soon. Whether it's because of the popularity of the 1984 film or because of the eye-catching creativity of the Ghostbusters-esque costumes fronted by the kids in Stranger Things, none can say.
What we can say is there are two ways to set your kid up in a great Ghostbusters costume this Halloween: you can buy it or you can make it on your own.
Only one of those options will ensure no one else has the exact same costume - and we think you know which it is.
The Suit: Use a Flight Suit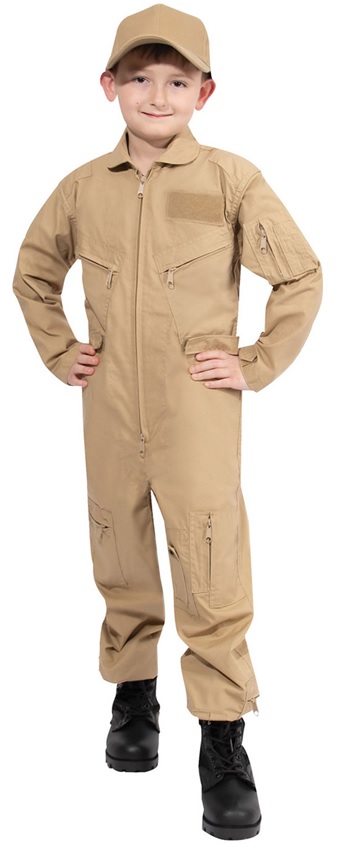 The basis of any good kids Halloween Ghostbuster costume is the tan "uniform" that sets the rest of the stage.
Admittedly, there's more than one way to go about it, as the uniform you are trying to create will vary based on the look you're going for. The uniform varies slightly!
For instance, if you are going for a Ghostbusters II look, a kids' black or olive drab flight suit will get you close.
But, if you're going for the original look, you can make your own from tan fabric and a pattern (they're available online) or you can just craft your own from a kids' khaki flight suit. There's no easier, cheaper, or more convenient way to get close to the original look.
If you're trying to recreate the look of the characters from the 2016 remake, you can start with a khaki flight suit and then sew on orange and gray stripes to match their uniforms. You can even get away with orange fabric with reflective tape stripes to create a little more pop.
Then, from there, you can get creative by adding the classic "No Ghost" patches on the right arm and a name patch across the chest. Standard hook and loop style patches are great for this and you can get both sew-on and iron-on types (our tan flight suits come with hook and loop patches on the left side of the chest already).
The Pack: Craft the Pack with an ALICE Pack Frame
With the flight suit configured into an official Ghostbusters uniform, you can turn your attention to the proton pack. This will be a bit tougher to create and will require some more creative thinking.
Again, there are pre-configured Ghostbusters packs you can buy, but there's a lot more fun involved in making it yourself, plus you can customize it.
For this, you might want to get some plans. GBfans.com has some good ones and some are free. You might find a few good proton pack plans at the previous link.
Generally, they all require a motherboard. You'll want to cut this from particleboard or masonite, but you can also make one from cardboard or even plywood.
Bolt the motherboard to an ALICE pack frame. You'll also need to fashion a spacer, ion arm, gearboxes, cyclotron, and bumper. Again, you can fashion these things from parts you find at most hardware stores for just a few dollars. Follow the plans you're using and get creative with how you want to make it.
If you want to keep weight down, you can use floral foam, and cut it to shape as needed. Just be aware that floral foam is very light and not durable, so it can tear or break easily.
Once you're finished assembling, spray paint the pack black and add accents of color or LED lights as needed, or according to the plans you're using.
Accessories: Proton Wand and Goggles
The proton pack won't be complete without a proton wand! This will be one of the harder parts to replicate, but if you're game to make it instead of buying it, follow your plans.
Again you can craft one of these from parts and materials found at most hardware stores. Junction boxes can be used to craft the main body of the proton wand and PVC pipes can be used for the grips and "barrel."
If you want you can also add a clip to the side of the proton wand and mount one to the side of your pack so you can attach it to the pack, like they do in the movie.
Also, if you want to make it light up you'll need to add a small battery compartment to the interior and do some basic wiring, but that part's up to you - we won't get into that here.
The "official" Ghostbusters wear "Disguise Ecto" goggles that look suspiciously like some night vision goggles. Real night vision goggles are expensive but you can get props pretty cheap. Make them olive drab and you're on your way.
The last thing is to make sure you have a good utility belt where you can hang all of your gear.
Accessories: Kids' Combat Boots and Gloves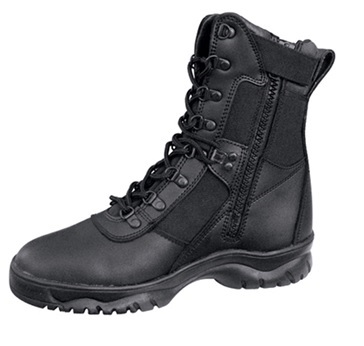 To round out the costume, you'll need a good set of kids' combat boots and rubber gloves. If you don't want to use rubber gloves, you can get away with black flight gloves, as long as they are long enough to extend up the wrist and cover some of the forearm.
If you have any questions about kids' combat boots, flight suit sizing, or anything else, get in touch with us or come visit us in our shop in Hawley, PA, or contact us at 877-612-1253. We're more than happy to help.